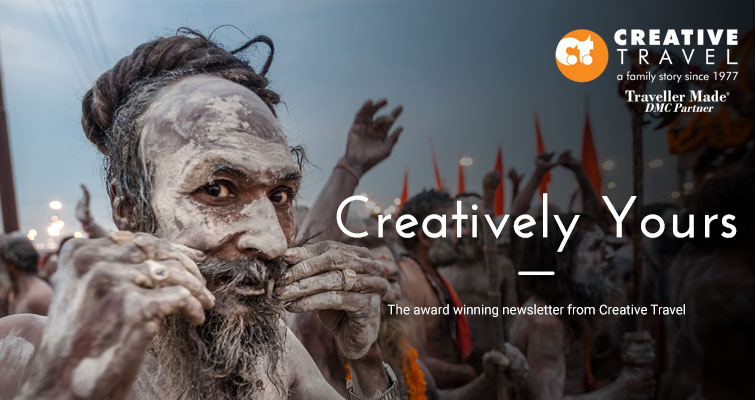 May 2019
Dear Industry Colleagues,
Welcome to another edition of the award-winning 'Creatively Yours'.
We are excited to announce that Creative Travel was recently officially certified as a 'GREAT PLACE TO WORK' by the Great Place to Work® Institute. This is further endorsement of the strong culture we have created within our organisation. Our people are always at the core of our journeys and the work we do is a strong reflection of their passion for travel. This accreditation gives a further boost to the morale and momentum of the people who are behind the services that we bring to you.
We are also proud that we have been nominated yet again for the prestigious World Travel Awards. We hope to get your support this year as well. Voting instructions are below.
If you haven't checked out our 2019 Be Our Guest offerings, now is the time to find out how you can visit India with us at exciting rates. We are constantly adding new experiences to our portfolio and would love to showcase some of these to you.
In this issue of Creatively Yours, read about Asia's largest Tulip garden in Srinagar, India's booming MICE travel, the latest properties in Maldives and the colourful festival of Thrissur Pooram in Kerala.
Best Regards &
Have a Creative Day!

Rajeev Kohli
Joint Managing Director
engage@creative.travel
PLEASE HELP US RE-CREATE HISTORY

VOTE NOW


It's about trust, continuity and reliability... for 42 years we have honoured the trust our clients & partners have placed in us across India and the subcontinent. We have never let a partner down and never will.

We are humbled and honored to have been nominated by the prestigious World Travel Awards for a 9th year running in two categories -

"India's Leading Destination Management Company"

,

"India's Leading Luxury Travel Agency"

and as

"India's Leading Experiential Holiday Company"

for JungleSutra Wildlife Journeys (our specialist wildlife brand).

To us, business is about building relationships. Our partners are our family, not numbers. Our travellers are our guests, not clients. We would love your support on this journey with your precious vote. Please scroll down to know the voting procedure.

Click Here to Start. If you have voted in the past, you need to login, If not, just create your account. You will receive the link at your registered email ID to verify your account (Check Spam if the email doesn't show)
Log in to share your vote
Select

ASIA

and then

INDIA

from the Region Menu
Please Scroll down to the list and look for the following categories, click on
We hope to have your support through your vote. It means a lot to us.
Creative Travel is
nominated for

Creative Travel is
nominated for

JungleSutra is
nominated for
TOP STORIES

'Don't abandon Sri Lanka,' travel industry urges

The travel and tourism industry in Sri Lanka is rallying together following the terror attacks of Easter Sunday. Normalcy is returning and the destination is ready to welcome back tourists...
India's MICE tourism growing at 8 pc a year: FICCI-Yes Bank report

Strong economic growth coupled with rapid emergence of India on the global horizon is poised to drive the growth of MICE tourism...
CREATIVE NEWS

We are now a certified Great Place to Work!

We are now a certified Great Place to Work! Creative Travel is now been certified as a GREAT PLACE TO WORK...
WHAT PEOPLE SAY ABOUT US

Mr. (confidential) had a wonderful time, cannot wait to go back to India. This has been on his bucket list for years, so this was a highlight for them. Sandra equally enjoyed, just have not connected with her yet
Told me Creative was Above & Beyond all the way. They LOVED their hotels, these were the top 3 in this order:
• Taj Lake Palace, Udaipur
• Aman-i-KhasRathambore
• Oberoi Amarvilas
and they LOVED The Taj Mahal Palace in Mumbai as well.
Thank you, thank you all for your impressive efforts in ensuring a trip of a lifetime for these gracious guests. Now we know that we have at least another trip we can plan for them, and hopefully they will spread the good news to their friends.
Kind regards, and will share any other update once I speak with Mrs. Chartrand
WHERE TO FIND US NEXT

FESTIVALS ALERT

Thrissur Pooram

13th May 2019
Ramadan

5th May to 4th June 2019
DESTINATION NEWS


Bahaar-e-Kashmir: Asia's largest Tulip garden is in full bloom in Srinagar

Said to have originated in the Hindu Kush mountains, the Tulip flower now has a new home in Srinagar as Asia's largest Tulip garden was opened to public this year...
Simplified regime boosts India's e-Visa applications

2.5 million tourists visited India in 2018 availing e-Visa. The facility now covers 166 countries and foreigners can obtain online visa within 72 hours...
Kerala's Jatayupara Earth Center: World's largest functional bird statue

The first impression of 'Jatayupara' is that of a colossal statue that is 200 feet long, 70 feet tall and 150 feet wide...
Karnika cruise completes maiden Voyage with rich experience of Indian culture

The Karnika Premium cruise, operated by Jalesh Cruises, started its luxury travel operation in India by successfully completing its maiden Voyage...
Delhi's history finally gets lit up

This year, you will finally get to take in the beauty of most of Delhi's major monuments framed against the night sky...
HOTEL NEWS

Maldives Unplugged: 5 upcoming resorts in the island nation

With a wealth of luxury resorts that have opened or are opening in 2019, there's no better time to plan a visit to The Maldives...
Indian Hotels launches new brand, SeleQtions, with 12 upscale properties

The Indian Hotels Company Limited (IHCL) announced the launch of its new hotel brand – "SeleQtions" – a collection of named and distinctive properties...
Best Western Opens First SureStay Plus In Indore

Best Western Hotels & Resorts has launched its new SureStay Plus Hotel Brand in India with the opening of a first SureStay Plus hotel in Indore, Madhya Pradesh...
Hilton's Waldorf Astoria Maldives Ithaafushi to Open in July

To further elevate Waldorf Astoria Maldives Ithaafushi's culinary offerings, the hotel will be announcing a partnership with a world-renowned...
Sarovar Hotels and Resorts Foray in Gorakhpur

Nirvana Sarovar Portico is located in the heart of the city and business centre of Gorakhpur and strategically positioned 15 minutes away from the airport...
AVIATION NEWS

SpiceJet, Emirates sign MoU for code share partnership

The reciprocal partnership will allow opening of new routes and destinations for passengers of the two airlines...
Airline fares on short-haul routes go up by 10-15%; 62% hike on Mumbai-Hyderabad route

There has been a spike in airfares, mainly after grounding of scores of planes by ailing Jet Airways the subsequent shutting down of operations on 17 April 2019...
Launch of Buddha Air's Kolkata-Kathmandu flight rescheduled

Nepal's private airline Buddha Air's proposed flight between Kolkata and Kathmandu will now take off end of May...
NEWS FROM THE JUNGLE


TOFT unveils new eco-auditing system 'Footprint'; to replace "PUG" eco-rating

The latest ranking is aligned to Indian Sustainable Tourism Criteria...
RECIPE OF THE MONTH

TOP SWEET DELIGHTS FOR INDIAN SUMMERS

Jamun Mint Popsicles

Use the tarty summer fruit to create pretty purple-hued popsicles to impress your friends...
Sol Kadi (Konkani Kokum Drink)

Sol Kadi is made from Kokum or Aamsol and coconut milk. It cools down the digestive system after eating spicy food...
Mango Kulfi – The Summer Delight

Popular kulfi recipe but with a twist, flavoured with mango. Summer is never complete without indulging in mangoes...
ARCHIVES

Read past issues of
'Creatively Yours' here
India's most awarded DMC since 1977