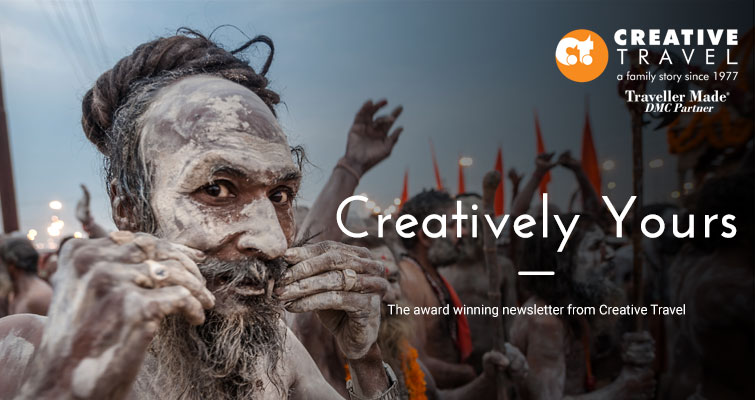 March 2019
Dear Industry Colleagues,
Welcome to another edition of the award-winning 'Creatively Yours'.
So its March. The end of the traditional high season for incoming tourism in India. Also the end of the Indian financial year. It's a point in time we take stock of how we did and what we need to do next. For many in our business it's been a mixed bag. Most are reporting a stagnancy or slowdown in their business. But for us at Creative, the business year gone was one that gave us many things to be proud of. We had much success in some projects we set ourselves out to do and are making plans for even a better year ahead.
With the current government at the end of this five year term, the Indian Election Commission has called the next elections on April 11 to May 19. This takes us into a super exciting period of the year. Nobody enjoys politics as much as Indians do. And no one does elections quite as we do. There will be pomp and fanfare. There will be drama and intrigue. There will be colour and music. There will be screaming and shouting. Indian elections are just like our movies. Full of action. Read below on some interesting information on what to expect.
Our 2019 'Be Our Guest' offering for those working in travel companies is now ready. Please ask us for exciting opportunities to explore India on your next vacation.
In this issue of 'Creatively Yours' also read about other news from around our region including the launch of ITB India 2020, upcoming festivals, new hotel openings from Taj and Roseate and Kerala's latest video and campaign.
Uber's latest speed-boat offering in Mumbai; a new museum complex in New Delhi; India's largest river ropeway in Guwahati; and the arts and crafts festivals taking the country by storm.
Best Regards &
Have a Creative Day!

Rajeev Kohli
Joint Managing Director
engage@creative.travel
TOP STORIES

The India Elections – The World's Largest and Most Expensive Democratic Exercise

Now that the current government has come to the end of its 5-year term, the Indian Election commission has formally announced the next elections...
India launches National Mobility Card for seamless travel

PM Narendra Modi recently launched 'One Nation One Card', a common mobility card which can be used across the country...
Visit Nepal 2020 inaugurated at ITB Berlin

The Nepal Tourism Board and Nepal Embassy in Berlin went all out to prepare the world for Visit Nepal 2020 at ITB Berlin...
ITB to make South Asia debut with India edition in 2020

Messe Berlin has announced that it will be organising the inaugural ITB India in 2020 at the Bombay Exhibition Centre in Mumbai...
WHAT PEOPLE SAY ABOUT US

Hi,
we got back from our holiday and we are super happy of all the amazing experiences we got chance to experience on our holiday. Big thank to you! Our guide-driver was amazing the best possible we could imagine. He was always on time, very helpful, polite, friendly, flexible and he looked after us well. He had a good sense of humor which is really important but also he was correct when needed. We also got some "extra services" when he showed us some places which were not on the program and he told comprehensively about the local life and culture. We were so happy to get the follow up calls from Creative Travel. And we really felt they were genuinely interested how we are doing and we were looked after well.
Program's pace was perfect for us and all the places we visited were interesting. We had many highlights on our tour but especially Horton Plains amazed us. All the hotels were super nice as well even we didn't have much time to spend in them.
Please let your team know these thanks also 😊 Let's keep in touch regarding the new bookings!
Have a nice day!
Best Regards
Sara Loketi (Ms)

WHERE TO FIND US NEXT

FESTIVALS ALERT

Holi – The Battle of Colours

20th to 21st March 2019
Baisakhi – The Harvest Festival

14th April 2019
Gangaur – For Fertility and Fidelity

March 20th 2019
Madurai Chithirai – A Celestial Wedding

8th to 22nd April 2019
DESTINATION NEWS

Hampi ranked second in New York Times's must-see global destinations

The ruins of Hampi in South India have been ranked second in the New York Times' list of must-see global destinations in 2019...
Saudi Nationals to enter India with e-visa

India's diplomatic missions in Saudi Arabia are working on making electronic visas available for Saudi nationals as soon as possible...
India wants to make medical tourism a $9 billion industry by 2020

There are many reasons people go to India: the culture, the food, the weather. But in recent years, another factor drawing visitors is health care.
Maha Kumbh now a Harvard case study

The Maha Kumbh Mela, considered the largest public gathering in the world, will now be the subject of a case study at Harvard University.
Rare collection of Hyderabad Nizams' jewels on display in Delhi

The Jacob diamond weighing 184.75 carats is among the 173 precious jewels and jewellery items from the collection of...
Kerala Tourism launches new global brand campaign

In an initiative to reignite interest in Kerala as a must-visit tourist hotspot, Kerala Tourism has launched a new global brand campaign, 'Human by Nature'.
Sound & Light Show in Mandu, MP

Set against the magnificent backdrop of Hindola Mahal (Jahaz Mahal premises), a spectacular sound and light show ...
"Script Your Adventure" in Karnataka this year

The state of Karnataka has launched a new campaign to promote travel to the region, highlighting the diverse offerings of the state...
Prime Minister inaugurates Virtual Experiential Museum in Varanasi

Prime Minister Narendra Modi inaugurated a Virtual Experiential Museum (VEM) at Man Mahal, situated on the bank...
HOTEL NEWS

Taj Steps Foot In Himachal Pradesh With Taj Theog Resort & Spa, Shimla

Indian Hotels Company Limited (IHCL), South Asia's largest hospitality company is introducing the iconic Taj brand in Himachal
Marriott International expands its 'kickback and Relax' brand into Kerala

Marriott International has opened Four Points by Sheraton Kochi Infopark, expanding the brand into Kerala, India...
Roseate Hotels & Resorts unveils The Roseate Ganges in Rishikesh

The Roseate Ganges is the latest offering from Roseate Hotels & Resorts, on the banks of the river Ganges in Rishikesh...
IHG to come up with 300-room Crowne Plaza in Amaravati

InterContinental Hotels Group has signed a management agreement with Indroyal Hospitality Services for Crowne Plaza Amaravati...
Holiday Inn Express expands India presence with multiple hotel openings across cities

InterContinental Hotels Group (IHG) has announced the opening of seven more Holiday Inn Express hotels from the IHG-SAMHI partnership...
Fortune Hotels debuts in Jalandhar and Mahiya near Kasauli

Fortune Hotels has launched two new hotels – one in Jalandhar and another in Mahiya near Kasauli...
Taj Hotels forays into plantation trails and homestays

Taj Hotels, South Asia's largest hospitality company today announced the launch of "Ama Trails & Stays"...
AVIATION NEWS

Ashwani Lohani Appointed Air India CMD for Second Time

Retired technocrat Ashwani Lohani will head the cash-strapped national carrier Air India as chairman and managing director...
Israeli airline Arkia to launch direct flight operations to Goa and Kochi

Arika airline will introduce to new routes to India from Tel Aviv, 28th September 2019, using the recently acquired Airbus A321LR...
SpiceJet likely to add 20 aircraft to its fleet this year; majority Boeing 737 Max

In the third quarter of FY19, budget carrier SpiceJet added 12 new planes — nine Boeing 737 Max aircraft and three Q400s...
Air India resumes flights to Iraq after 30 years

After years of conflict in Iraq and sanctions against Saddam Hussein's regime, which prevented flights to Iraq...
Manta Air commences operations, in Maldives

Manta Air, the new domestic airline, began its operations after Maldives Civil Aviation Authority granted full authorization...
Japan Airlines and Vistara Enter Codeshare Partnership

Japan Airlines (JAL) and India's full-service carrier, Vistara, have entered a codeshare partnership that will open...
Now fly direct to Istanbul from Delhi on IndiGo from March 20th

IndiGo is set to begin direct daily operations to Istanbul from Delhi and later from Ahmedabad along with other destinations...
NEWS FROM THE JUNGLE


Two Odisha sanctuaries may get tiger reserve status

The Sunabeda wildlife sanctuary in Nuapada dist and Debrigarh wildlife sanctuary in Bargarh district of Odisha...
Tagged turtles return to Gahiramatha for nesting

As many as 20 Olive Ridley turtles, which were tagged more than a decade back, have recently...
Protecting the Sundarban wetlands

On January 30, the Indian Sundarban was accorded the status of 'Wetland of International Importance' under the Ramsar Convention...

Recipe of the month

Gujiya
ARCHIVES

Read past issues of
'Creatively Yours' here
India's most awarded DMC since 1977