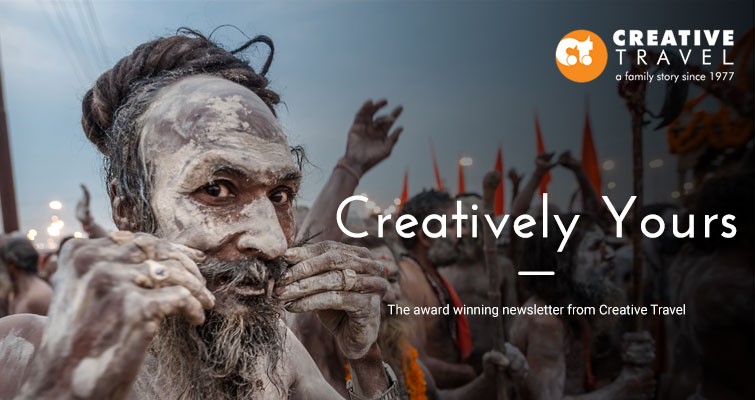 FEBRUARY 2019
Dear Industry Colleagues,
Welcome to another edition of the award-winning 'Creatively Yours'.
The high travel season is at its tail end in India, and we are rounding off yet another exciting period of journeys across the subcontinent. We now look forward to welcoming our partners from across the globe for experiential and exciting visits to the region.
Our 2019 'Be Our Guest' offering for those working in travel companies is now ready. Please ask us for exciting opportunities to explore India on your next vacation.
The Indian Budget was released recently but there was little to impact the health of the Indian tourism industry. No mention. Although this is an interim budget, there was some hope for relief on taxes. The overall inbound industry still needs much improvement in policies and measures from the government.
We are excited to see that many destinations of the region have captured the world's fancy and will continue to do so in 2019. From Mumbai to Agra, Kerala, and the Andamans, India has featured amongst the top destinations for 2019 on coveted lists by Conde Nast, Forbes, CNN, Travel + Leisure and more.
In this issue of 'Creatively Yours' read about Uber's latest speed-boat offering in Mumbai; a new museum complex in New Delhi; India's largest river ropeway in Guwahati; and the arts and crafts festivals taking the country by storm.
Best Regards
And Have a Creative Day!

Rajeev Kohli
Joint Managing Director
engage@creative.travel
TOP STORIES

Interim Union Budget Presented

Indian Finance Minister Piyush Goyal presented the much-anticipated Union Budget on 1st February. As 2019 will be an election year, it was somewhat of a populist budget as expected
Rohit Kohli honoured with Distinguished Alumni Award by WGSHA

Our Joint Managing Director, Rohit Kohli received the Distinguished Alumni Award from his alma meter Welcomgroup Graduate School...
WHAT PEOPLE SAY ABOUT US

Jon and I have just returned from a wonderful trip to India, arranged through the Flight Centre in the UK but obviously planned and delivered by Creative Travel.
I wanted to write and thank your entire team for their dedication and professionalism throughout the trip - they were there from the moment we landed until the moment we left and looked after us every step of the way.
Two people deserve a special mention: Mr Abhishek Kumar Tiwari, your Guest Ambassador in Delhi, who (among other things) initially welcomed us at the airport and subsequently helped us to navigate the chaos of Delhi train station, both on our departure to Agra and arrival from Jaipur a few days later; and our driver, Mr Gurvinder Singh, who was wonderful. We felt totally safe with him behind the wheel and he ensured we never wanted for anything - bottled water, riding comfort, temperature, etc. He was excellent company on the long journeys around the Golden Triangle and he went above and beyond the call of duty to take us on additional excursions (such as a theatre performance in Agra) that were not on the original itinerary.
Thanks also to Usha and IV Singh in Jaipur for welcoming us into their home for a cookery lesson and local dinner, and to all the other agents and guides who helped to create such a memorable trip for us.
Your company is excellent and I would have no hesitation in recommending you.
Kind regards
Paul Weaver
WHERE TO FIND US NEXT

FESTIVALS ALERT

Taj Mahotsav – Craft, Culture, Chronicles

18th to 27th Feb 2019
Rann Utsav – The Desert Festival

1st November 2018 – 20th February 2019
Surajkund Crafts Mela

1st to 17th February 2019
Udyanotsav – Into the Mughal Gardens

: 6th February to 9th March 2019
Khajuraho Dance Festival

20th to 26th February 2019
DESTINATION NEWS

Delhi gets four new museums

Prime Minister Narendra Modi inaugurated four new museums in the capital, dedicated to the revolutionary zeal and courage of India's freedom fighters.
Costlier entry to new museums at Red Fort

The newly inaugurated museums at Red Fort have opened their doors to the public at a higher fee.
After food delivery, Uber to provide speed boat services in Mumbai

After entering the food delivery business through Uber Eats, the global taxi aggregator has announced that it will now provide boat services around Mumbai.
Art lovers throng to the Kochi-Muziris Biennale

If you're an arts and culture enthusiast, the Kochi-Muziris Biennale (12 December 2018 – 29 March 2019) is the place to be.
Its snow season in North India!

Heavy snowfalls in the hills of Northern India have drastically dropped temperatures across the region.
India's longest river ropeway to start in Guwahati by April

The eagerly-awaited ropeway, India's longest, connecting Guwahati with North Guwahati will be opened for public soon.
Explore Thenmala—India's first planned eco-tourism destination in Kerala

"God's Own Country," Kerala is now home to Thenmala, the first planned eco-tourism destination in India.
HOTEL NEWS

Taj opens second hotel in Udaipur

Taj has opened its second hotel in Udaipur – Taj Aravali Resort & Spa.
India's first Marriott hotel to make way for an upgrade in Mumbai

Marriott International, the world's biggest hotel chain, will witness a change of guard at its oldest property in India...
Four Seasons to Debut Nine New Hotels

The coming year will mark several significant new openings for Four Seasons Hotels and Resorts.
AVIATION NEWS

80 countries participate at first global aviation summit in India

The first edition of Global Aviation Summit 2019 witnessed participation from more than 80 countries.
Bengaluru airport announces closure timings during Aero show in Feb

To ensure safety of the passengers and success of the biennial Bengaluru air show, the Kempegowda International Airport...
Buddha air prepares international trial with Kolkata

Private carrier Buddha Air has announced three weekly flights on the Kathmandu-Kolkata route from April 15
Govt Awards 235 Routes Under UDAN, Seaplanes to Fly on 18 Routes

Seaplanes will fly on 18 air routes among the 235 routes awarded by the government, under the ambitious...
Emirates to cut check-in limit by 50%

Dubai-based Emirates is set to introduce fare-based check-in baggage allowance, solely for its economy class.
Senior Citizen Concession on Air India flights

In a relief to senior citizens, retirees aged over 60 years will now be able to avail 50% discount on Air India flights on domestic routes.
India now connects to more international cities through non-stop service

India has steadily increased the number of overseas city pairs served by a non-stop service from the country over time...
NEWS FROM THE JUNGLE


Hand-raised rhinos translocated to Manas National Park from Kaziranga

A pair of hand- raised rhinos, a male and female, have been translocated from Kaziranga National Park to Manas National Park in Assam
Telangana to set up 'Save Tiger Protection Force'

The Telangana government has decided to form a 'State Tiger Protection Force' to save the Big Cat population in the State.
Himachal to prepare baseline data of high-altitude eco-system under SECURE

The ministry of environment, forests and climate change has sanctioned a new project for securing livelihoods, conservation, sustainable use...

Recipe of the month

Rogan Josh (Red Lamb)
ARCHIVES

Read past issues of
'Creatively Yours' here
India's most awarded DMC since 1977