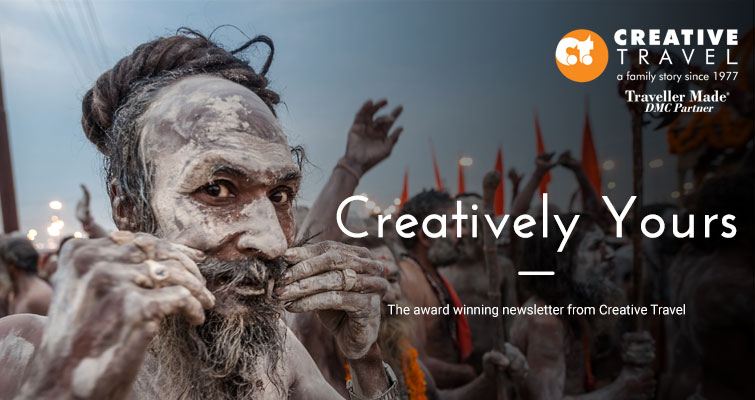 April 2019
Dear Industry Colleagues,
Welcome to April edition of the award winning 'Creatively Yours'.
As we enter the shoulder period for travel in India, it's a time when the Creative team is working hard to bring new products and experiences to the table.
India is abuzz with the General Elections, as the voting began on 11th April to decide the government for the coming five years. With a population of 1.3 billion and nearly 900 million eligible voters, this will be the world's largest and indeed most vibrant elections. The nation is set for a rollercoaster of emotions, celebrations and drama in the months to come. For some interesting information on the world's largest democratic exercise, click here.
The e-visa rules have been tweaked again to make them yet more user friendly. Details on that are below.
We are proud that we have been nominated yet again for the prestigious World Travel Awards. We hope to get your support this year as well. Voting instructions are below.
Our 2019 'Be Our Guest' offering for those working in the travel industry is now ready for you to use. Please ask us for exciting opportunities to explore India on your next vacation. Scroll down for further information.
In this issue of 'Creatively Yours', read about the select journeys of Creative's "Be Our Guest" program; new e-visa rules in India; upcoming tourism projects in the Andamans; Accor hotels in Rajasthan; and much more.
We look forward to your vote for Creative Travel at the World Travel Awards. Details below.
Best Regards &
Have a Creative Day!

Rajeev Kohli
Joint Managing Director
engage@creative.travel
PLEASE HELP US RE-CREATE HISTORY

VOTE NOW


It's about trust, continuity and reliability... for 42 years we have honoured the trust our clients & partners have placed in us across India and the subcontinent. We have never let a partner down and never will.

We are humbled and honored to have been nominated by the prestigious World Travel Awards for a 9th year running in two categories -

"India's Leading Destination Management Company"

,

"India's Leading Luxury Travel Agency"

and as

"India's Leading Experiential Holiday Company"

for JungleSutra Wildlife Journeys (our specialist wildlife brand).

To us, business is about building relationships. Our partners are our family, not numbers. Our travellers are our guests, not clients. We would love your support on this journey with your precious vote. Please scroll down to know the voting procedure.

Click Here to Start. If you have voted in the past, you need to login, If not, just create your account. You will receive the link at your registered email ID to verify your account (Check Spam if the email doesn't show)
Log in to share your vote
Select

ASIA

and then

INDIA

from the Region Menu
Please Scroll down to the list and look for the following categories, click on
We hope to have your support through your vote. It means a lot to us.
Creative Travel is
nominated for

Creative Travel is
nominated for

JungleSutra is
nominated for
TOP STORIES

Amendments in rules for e-Tourist and e-Business Visa - E-Visa Amendment to ch-2 e-Visa of the Visa Manual

As per the existing norms, the applicant can apply for all Sub-categories of e-Visa 120 days in advance prior to expected date of arrival...
CREATIVE NEWS

Be Our Guest

We are delighted to offer special highly discounted journeys for our friends in the Travel Industry. They say, "seeing is believing". We want you come and experience what we offer in your personal vacation. No site visits, no lectures. Just come and live our lands...
WHAT PEOPLE SAY ABOUT US

Dear colleagues,
Just a brief update from our dearest travelers.
I have just spoken to them, and they are absolutely happy. They had great words for Mr Bharat.
He is really doing a great job. I have congratulate him, of course.
But wanted to share also with you.
Have a nice day ahead!
Best Regards
Virginia

WHERE TO FIND US NEXT

FESTIVALS ALERT

Kadammanitta Padayani, Kerala

15th Apr – 24th Apr 2019
DESTINATION NEWS

Qutub Minar to dazzle after dark with LED lights

Soon, the Qutub Minar will get special illumination that would bring alive the carvings and inscriptions, and even make them...
Seaplane operations to be a reality in Andamans soon

Seaplane operations will soon be a reality in the four islands of Andamans with the opening of its bidding process...
Plans afoot to make Andamans major tourist attraction like Maldives, Mauritius

New projects are expected to bring in investment of more than Rs 650 crore and have in-built condition of 60 per cent local employment...
Multiple countries get visa free entry to Sri Lanka for six months

Multiple countries are being granted visa free entry to Sri Lanka for six months, starting from April 1st...
HOTEL NEWS

Accor to open 2 Raffles Hotels in India

Accor announced two majestic hotels in India – Raffles Jaipur and Raffles Udaipur. The iconic Raffles brand is synonymous...
Zone by The Park Kolkata opens in India

Hotel chain Apeejay Surrendra Park announced the launch of a new 'Zone by The Park' hotel in Kolkata...
Marriott to open South Asia's first Tribute Portfolio hotel at Cochin International Airport

Twenty14 Holdings has announced plans to launch Port Muziris – South Asia's first Tribute Portfolio hotel...
Taj Rishikesh Resort & Spa, Uttarakhand introduces the brand in Rishikesh

The Indian Hotels Company Limited (IHCL), South is introducing the iconic Taj brand in Rishikesh with the opening ...
Oberoi Hotels & Resorts announces rebranding

With a deep belief and commitment to their guests, they thought who better to guide them into the future than them...
AVIATION NEWS

Dharamshala-Jaipur air service starts

Dharamshala is now connected to Jaipur via air with SpiceJet's direct flight between the two tourist destinations...
Airbus predicts sharp increase in Indian aviation demand

India will require 1,750 new passenger and cargo aircraft over the next 20 years to meet an exponential rise...
NEWS FROM THE JUNGLE


Increase in Safari prices at Ranthambore

Domestic and international tourists will have to pay a little more to enjoy tiger safari at the Ranthambore National Park...

Recipe of the month

Kadhai Paneer
ARCHIVES

Read past issues of
'Creatively Yours' here
India's most awarded DMC since 1977