Dear Industry Colleagues
Welcome to

another edition of our award winning newsletter 'Creatively Yours'.

March marks the coming of the end of our peak period of the tourist season. It has been a relatively tough year for India with some markets underperforming. Our industry is very resilient though and we always keep an optimistic outlook on the future.


The Indian government will be implementing the new GST taxation system July 1. This will be a huge move for the country and we in tourism are awaiting to hear what tax bracket we have been placed in. So far, we haven't been given any special benefits by the government despite making a number of representations over the years. This time around, no stone has been left unturned to present a unified tourism industry strategy on the applicability of GST on our segment. We can only hope for the best now.


The Ministry of Tourism announced a special scheme to offer travellers coming in with a e-tourist visa a free telephone Sim card on arrival. It is a nice gesture that does go a long way in assisting travellers in staying connected with home.


The moment for our move has also come. Team have started the packing process to move to our new corporate headquarters. It is a significant moment in our history. Stay tuned for pictures.


You shall see some new and exciting initiatives in the next season from Team Creative. New experiential inclusions, new circuits, new concepts... We take pride in our ability to make a trip to the Indian sub-continent something very different.
Take care,
Rajeev Kohli
Joint Managing Director

Where You Can Find Us Next


Special News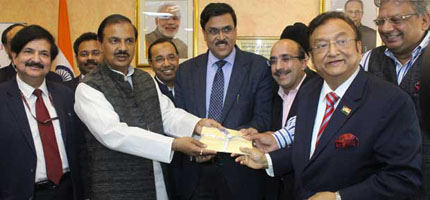 India launches Free pre-paid mobile SIM Card for international visitors arriving on e-Visa

The Ministry of Tourism in collaboration with BSNL (the largest telephone service providers in the country) is now providing free pre-loaded SIM Card to international tourists arriving in India on e-Visa effective 15th February 2017.
What People Say About Us
Visit to India

The holiday was amazing so thank you so much for bringing it all together. Creative travel was marvelous, they couldn't have done anymore for us. The 2 guides that we had in Agra and Jaipur – Ritchie and Mr GeeGee were so knowledgeable and fun they brought the tours alive and our taxi driver for the north – Ajay was just lovely. With regards to the Delhi tour we think that it would be good to include the Gandhi museum, as to show where he was cremated without showing where he lived and died was a bit odd. So we went there ourselves and also to other places on our free day so we didn't miss out.

My husband availed himself of as much Indian food as possible but he couldn't quite bring himself to eat curry for breakfast.

We were at the Spice Village in Thekkady for our 40th wedding anniversary and they made us a cake and hand made a poster for us signed by all of the staff which was really kind of them and we were very touched.
Festival News
Gangaur Festival (30th March, 2017)
Gangaur festival of Rajasthan is celebrated in reverence to Lord Shiva and goddess Parvati. It derives its name from the words 'Gan' and 'Gauri', the former is another name for Shiv while the latter is used to address Parvati.
Gudi Padwa (28th March, 2017)
This celebrated as the first day of the year by Maharashtrians and Konkanis. On this day, new Samvatsara, which is cycle of sixty years, starts.


News From The Jungle
Kanha Tiger Reserve introduces a mascot of its own
Kanha Tiger Reserve has become the first tiger reserve in India to introduce a mascot of its own, and it's not one of its famous tigers, but 'Bhoorsingh the Barasingha'.
Proposed Ghodazari wildlife sanctuary opens for tourists
Ghodazari: Even as the Bramhapuri forest division has proposed Ghodazari, home of Jai's siblings - Bittu and Shriniwas, as a 200 sq km wildlife sanctuary, a part of it has been thrown open for ecotourism.
New species of rabbit-like pika discovered in India
In the remote upper reaches of the Eastern Himalayas in Sikkim, India, scientists have discovered a new species of pika, a cute rabbit-like mammal.


Destination News
Raigad fort restoration work to begin this month
The Archaeological Survey of India (ASI) is set to begin work on the first phase of the restoration of the Raigad fort by March-end.


Kerala, gods own country ranked 8 on the '12 Destinations to Watch in 2017'
Not like we needed someone to tell us how beautiful Kerala is, but The Association of British Travel Agents (ABTA) has released its Travel Trends Report 2017, and it reiterates just what most Indian travellers know..
Gangtok Awarded 'Cleanest Tourist Destination'

Gangtok, the capital city of Sikkim, has been named as the 'Cleanest Tourist Destination' by the Union Ministry of Tourism.
Hotel News
Mumbai Gets Its First 'Floating Hotel'
Dining is no longer going to be conventional, as the megapolis got its first floating hotel - 'AB Celestial' - where one can enjoy a relaxing evening in the backdrop of the iconic Bandra-Worli sea link.
Carlson, MGH to open two hotels in Jammu & Kashmir this year
Carlson is all set to expand its footprint in the state, particularly in Kashmir, as it looks to set up six hotels under its Radisson and Country Inn and Suites brands in the valley, and one in Jammu.
Westin Hotels & Resorts opens seventh property in India
Westin Hotels & Resorts, part of Marriott International, today announced the opening of a property in Rajasthan.
Aviation News
SIA expands in Ahmedabad
Airlines will expand its Indian operations next month with the launch of an additional flight to Ahmedabad.



AirAsia adds domestic trio in India
AirAsia India has unveiled plans to launch a trio of new domestic routes. Effective 19 February 2017, the low-cost carrier will commence flights from Delhi's Indira Gandhi International Airport to the cities of Bagdogra in West Bengal state, Pune in Maharashtra state, and Srinagar in Jammu and Kashmir.
New player in the sky: Zoom Air takes off on Feb 15
A new entrant, Zoom Air, in the aviation space will spread its wings and start its commercial operations from February 15, reports Hindu Business line.
Creative in the Press
Experienced-led Luxury tours for HNIs in India
Indian market, interestingly, is fast outpacing even its BRICS peers in premium travel segment, spurred by a genuine desire to experience true, bespoke luxury travel.President.
Members Of
Connect with Us
Contact Us
Creative Plaza, Nanakpura, Moti Bagh, New Delhi 110021. India.
Tel:

24679192, 26872257-58-59, 26114281
Fax:

+91-11-26885886 / 26889764
USA Fax:

+1-646-349-1614
Europe Fax:

+44-20-7681-1242
This is a formatted HTML email. If you receive it in a unreadable / garbled form, please let us know. To keep the message size low, some images are linked to the internet and would show only when you are on-line. If you would like to be removed from this mailing, please follow instructions at the bottom. This mailing is going out to individuals we have met over the years or to people whose names have been obtained from various lists provided to us by various trade shows. We do not mean to be intrusive to anyone.