The award winning newsletter from Creative Travel / July 2017
Dear Industry Colleagues
Welcome to another edition of award winning 'Creatively Yours'.

Happy to say that the monsoons are doing well across most of India. It seems we will have a healthy rainy season, which is very important for our economy. Good rains mean a good year for the Indian economy.

July is halfway through our off season. We are launching some new program ideas this month that our partners will have access to. Also, we are bringing back our webinar series "Crafted by Creative" this month with our first webinar on Bhutan.

There is still an enormous amount of confusion on the newly introduced GST system. Hotels are more confused on what tax slabs to apply and as a consequence most of the industry has had to pause on pricing initiatives. The details in the fine print on the policy issued is so confusing and clarifications from the government are still awaited.

You shall see some new and exciting initiatives in the next season from Team Creative. New experiential inclusions, new circuits, new concepts... We take pride in our ability to make a trip to the Indian sub-continent something very different.

Read this and much more in this edition of Creatively Yours.

Best Regards,
Have a Creative Day!
Rajeev Kohli


Joint Managing Director
What People Say About Us
My client's Wonderful trip to India

They were in India in April – they did a tailor made Golden Triangle trip, and then a week in Goa. They said the first week on this tour was absolutely outstanding – guides and drivers were amazing, really knowledgeable, really enthusiastic, and really helpful, with lots of good advice and information. Loved having cold bottled water available in the car as they ended up there during a heatwave. They're actually still in email contact with one of their guides as they got on so well – I think that says a lot!

They also really loved the Tree of Life Hotel and Spa – said it was simply amazing and worth every penny.

They wish they'd spent longer on this part of their trip.

- Aaron Bekir, UK
Where You Can Find Us Next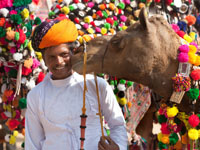 September 10-14
PURE, Marrakech
Unique Experiences
Weaving magic - Women weavers of Uttarakhand claim more than just the breadwinner status
Even the slightest drizzle is enough to make everyone's mood drop instantly. It reminds the whole village of June 2013, when the hills of Uttarakhand were doused in rain with a cloud burst of unimaginable force. The water steamrolled entire villages and cut into hillsides, killing hundreds.
Festival News
Raksha Bandhan (7th August 2017)
Raksha Bandhan, or simply Rakhi is a Hindu religious and secular festival, celebrated in many parts of the Indian subcontinent, notably India and Nepal. Raksha Bandhan means "bond of protection".